Cypress Solutions is pleased to offer the Infinity POS System to retailers and resellers in California and throughout the Country.  Infinity is unique among retail POS systems in that we use Microsoft SQL Server technology at each POS terminal.  Each POS terminal runs 100% independently and our patented Linker™ exchanges data with the store server every 15 seconds, giving us the best of both worlds.  We have virtual real-time data to make business decisions, yet there is no single point of failure in the POS System. The Linker™ also handles multi-site communications in a chain environment.  Head office personnel have access to the full point of sale data within 30 seconds of the sale being made at the POS Terminal.
Infinity's POS engine was designed for very flexible retail POS operations.  Whether your retail site needs a single POS terminal or you are looking for POS for multiple terminals and locations, the Infinity Retail System may be the right choice for you.  Designed from the ground up using MSSQL2000, the system is rock solid, and has a wide range of features making it a great solution for most hard goods POS operations.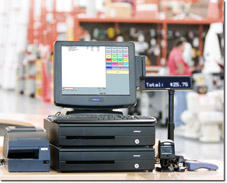 Cypress Solutions is a unique Point of Sale (POS) integrator serving retail customers in California and around the country.   What makes Cypress Solutions unique is that we serve only the retail Point of Sale (POS) marketplace.  We have found that many "Retail Point of Sale" providers in Southern California sell Cash Registers and Restaurant Systems as their core business and do a little retail POS to supplement.   Our sales and service personnel work day in and day out with the same POS systems that your business needs.  This gives us in depth knowledge in retail operations, so the experts who will design and install your new Retail Point of Sale System can work to guide you in configuring your new POS system, and can help you get the most out of your POS system.
We also distribute the Infinity Retail System through select POS resellers throughout the US. Our experience from direct installations gives our resellers the advantage of being supported by a company that has years of experience in exactly the same business as them.